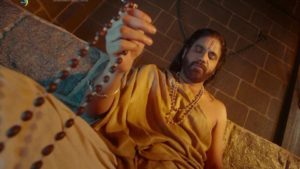 The first teaser of Nagarjuna's Om Namo Venkatesaaya has been released on Friday. The teaser did not exactly set the YouTube on fire, but managed to get 6-lakh-plus views during these couple of days.
It is indeed surprising that Nagarjuna should be banking on devotionals to give his career some boost. For one thing, it is true that his other films – the socials and historicals – failed to make any waves in the recent past. Probably the reason why he is relying increasingly on these rather gaudy, unbelievable, and a little anachronistic films.
The film is based on the story of Hathiram Baba of Tirumala. Hathiram Bhavaji or Hathiram Baba or Hathiramji was a saint from North India who visited Tirumala around 1500 CE on a pilgrimage and became a devotee of Lord Venkateswara. He settled there by setting up an ashram near the temple. Hathiramji Mutt established on his name used to administer the Tirumala temple before the creation of the Tirumala Tirupati Devasthanams from 1843 to 1932.
The teaser of Om Namo Venkatesaya has nothing that you would not expect from a devotional film. It looks exactly the same as Annamayya and Sri Ramadasu. As a film, Om Namo Venkatesaya will probably be as uninteresing and uninspiring as it can go. But given that there is a devotional frenzy sweeping the Telugu states at this point of time, Nagarjuna's film might not lack at box office, what it does in screen craft!
Watch the teaser here: