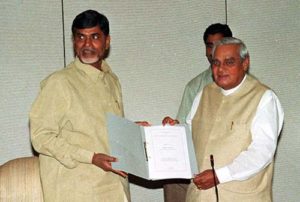 Today is Atal Bihari Vajpayee's 92nd birthday. While wishing him well, Naidu described him as 'Close Confidant'. That may not surprise those who know how much closeness Chandrababu Naidu enjoyed with Vajpayee during their PM and CM days respectively. In fact, Chandrababu Naidu enjoyed unprecedented clout with the Center during Vajpayee' stint as PM. The same equation is prevailing now in Delhi and AP, but interestingly, Chandrababu Naidu does not seem to enjoy the same kind of rapport with Narendra Modi.
Media reports those days would wonder how Naidu was able to wield so much of influence in Delhi. "No other NDA partners have received the largesse the Vajpayee government has bestowed on Naidu…" a Rediff report grudgingly acknowledged.
Whenever there was a crisis faced by the Central Government, Naidu, as its major supporter, would extract benefit for the state. Listed here are some of them:
AP got disproportionately large amounts of rice from Central pool (1.5 million tonnes).
Insurance Regulatory and Development Authority (IRDA) was established in Hyderabad.
A whopping Rs 2,500 crores for rural development was granted by the Centre.
Rs 545 crores was granted for the construction of a new international airport at Shamshabad.
An extension in service to his bureaucratic nominee, Cabinet Secretary T R Prasad, was given.
Naidu was given the first choice to pick among the foreign investments, including Microsoft
Naidu himself said several times that he was in the loop in discussions for selection of a name for the President of India, and influenced Vajpayee in finalizing Abdul Kalam for the position. Those who were with Naidu say that he was able to pick up phone and call Prime Minister Vajpayee any time he wanted.
Times have changed, and though even now BJP is an ally, Naidu presently cannot count on Narendra Modi the way he did with Vajpayee. Of course, the fact that Vajapyee's NDA Government depended on the support of 28 TDP MPs mattered then. But even otherwise, Modi's personality is vastly different from that of Vajapayee. The former is more self-absorbed, while the latter was easy going. The result is Naidu cannot take anything for granted in Modi times.