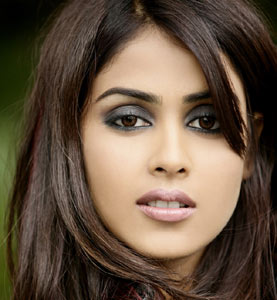 Actress Genelia is furious over media reports that she was involved in a land scam and that she was facing criminal charges over the issue.
It may be recalled that several news reports had a case was filed against Genelia for acting as brand ambassador for a real estate company in Hyderabad. An alleged victim of the Anjaniputra Infrastructure filed a case against the company as well as the actress for his alleged loss.
Genelia, however, dismissed the reports. "I have not received any papers or statement that says that I am involved in any land-grabbing issue. The only way I got to know about it is through newspapers. All those rumours about my involvement in a land-grabbing scam are baseless," she clarified.
She made it clear that she was not a brand ambassador of Anjaniputra Infrastructure Private Limited nor was sheon their board of directors. Genelia said she  had just done one shoot for them, and nothing else.
The actress, whose latest film in Telugu is Naa Ishtam with Rana Daguugati advised the media to write responsible after ascertaining facts.