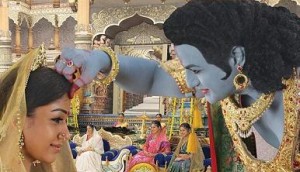 The box office might not have been too generous with Bapu-Mullapudi's Sri Rama Rajyam, but the aesthetically made film will no doubt remain a classic in Telugu cinema history. Talking about the film on the eve of its completion of 50 days, Balakrishna was candid in an interview.
Asked whether his father the legendary NTR would have acknowledged his portrayal of Rama, Balayya said that NTR would not yield to anybody so easily. " 'We (I) cannot be compared to anybody', my father would have said," Balayya replied with a genuine smile on his face.
Whether because he did not want me to be overconfident or a superstition that it was not good to praise one's son, I don't know, but NTR used to be extra strict with me, Balayya said.
Balakrishna paid rich compliments to Bapu, the late Mullapudi, Ilayaraja, Nayanatara, Srikanth and Jonnavithula whose contributions made the film rich.
The 50-days function of the film is all set to be held in Vijayawada on January 5.