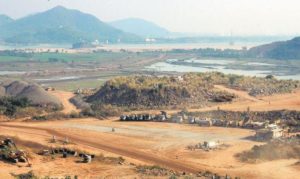 The Central Government releasing huge amount of nearly Rs 2,000 crore caused consternation in Odisha, which has been objecting to the contruction of Polavaram project in Andhra Pradesh.
The Odisha media termed as "the final nail in the coffin in Polavaram case" the Union Water Resources Minister Uma Bharati's statement on Monday that the construction on the multi-purpose irrigation project was allowed after Odisha along with two other states gave consent for this.
The Minister was responding to media queries after the Centre through Nabard released Rs. 1,982 crore to Andhra Pradesh towards the irrigation project in New Delhi. Finance Minister Arun Jaitley handed over the cheque to Andhra Pradesh Chief Minister Chandrababu Nadu at an event in the national capital.
"For the project (Polavaram) Odisha, Chhattisgarh and Andhra Pradesh have given consent. After that only the project was given a go ahead", Uma Bharati said.
The ruling Biju Janata Dal vehemently protested the decision of the Centre."We have applied to the National Green Tribunal to intervene in this matter. But as it is taking time, both the Centre and the Andhra Pradesh government are taking advantage of this. The Centre has always maintained double standards on Polavaram issue. The Centre is deliberately ignoring the issue in which it has political motive. If it maintains such attitude towards Odisha on its other issues, we will have a showdown with the Centre in the coming days," BJD spokesperson Pratap Deb told media persons.