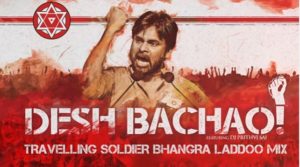 Janasena chief Pawan Kalyan's Desh Bachao album is out. Out of a total six songs, four have been released today.
"This protest musical album 'Desh Bachao' is a revisit of the protest, patriotic, and inspirational songs which I had conceived for my films around 14 years back. Now, child prodigy DJ Prithvi made it electrifying with his DJ skills," Pawan said on the occasion.
The first one is the take off on 'Travelling Soldier' number from Pawan's Tammudu film. The song has been remixed with Pawan's histrionic-filled expressions from his recent political speeches.
The track, titled Bhangra Laddoo mix, starts with the words from the Travelling Soldier song 'Look at my face in the mirror and wonder what I see'.

Pawan had described the Special Package announced by the Centre as 'rotten laddoo'. The word laddoo in Pawan's voice is used across the track. The song was originally conceived, according to Pawan, to convey to the youth that they should actively participate in the process of nation building.
The track, mixed by DJ Prithvi Sai, is apparently aimed at arousing emotional outrage against the denial of Special Category Status for Andhra Pradesh. It may be recalled that Pawan had declared his support to the proposed sit-in at RK beach in Vizag over SCS, on the lines of Jallikattu agitation.
YSR Congress Party chief Jagan Mohan Reddy too has called for a candle light protest at all district headquarters on the same day – January 26.
The second track "Naarazu Gakura" is inspired from the song "Naarazu gakura" originally composed by Ramana Gogula for the movie "Johnny" which released in the year 2003. The song is mixed with bits of news reporting on current affairs. The song was conceived after the Godhra incident of train burning, which made Pawan wary of 'divisive politics'.

The third song "Ye Mera Jaha – EDM Mix" is inspired from the song "Ye Mera Jaha" from the movie "Khushi", composed by Mani Sharma.

Pawan also tweeted about DJ Prithvi Sai, who came up with the tracks for Janasena. According to Pawan, 19-year-old Prithvi Sai is the youngest in Asia. The DJ also released international single albums.
#DJPrithviSai pic.twitter.com/UgOhrwxU5j

— Pawan Kalyan (@PawanKalyan) January 24, 2017