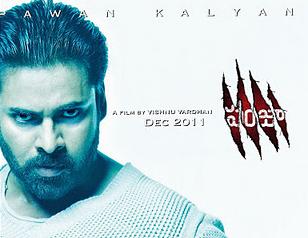 Pawan's much awaited Panjaa has let down the audience. Yes, the film is stylishly made and Pawan gave his best. But the story, as old as Telugu film industry, has nothing much to offer.
The plot treads the familiar path: the hero is chosen by a mafia don as his special ward, but the much-loved second-in-command comes into conflict with his own boss when he falls in love with the don's daughter.
Panjaa closely follows the Baalu theme and hence does not give much scope for expectations. The shot-taking is good, but the narration refuses to move forward, leaving the viewer in the lurch even before interval.
The much anticipated comedy from Brahmanandam evokes few laughs. The Pawan-Brahmi tracks in his earlier films were major draw for the audiences, but this time, the scenes fail to connect.
Adivi Sesh, who played the villain's son, is refreshing both in his characterization and emoting. The cinematography and the music are good. Pawan looks great in his new look and adds his zing and verve to the character.
But for Pawan's fans who have been hoping for super-duper success at box-office, Panjaa probably will not give them what they want. The film has released in a record-breaking 65 theaters in Hyderabad city alone, but how long will it run is a matter of conjecture.