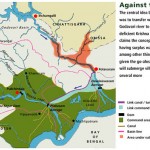 After all, Namaste Telangana owner might not get Rs 4,000 crore worth Polvaram bid. It may be recalled that C Lakshmi Rajam, chairman of Namaste Telangana and partner in Sew Constructions, stood as L1 (lowest bid) in Polavaram tender.
This had kicked off a row with TDP and other opposition parties alleging that TRS entered into an understanding with Kiran Kumar Reddy government. TRS also found itself in a corner as the party, which has been opposing Polvaram project, was seen as compromising its stand following the award of contract.
However, the latest development is that the high-powered committee headed by chief secretary Pankaj Dwivedi is likely to take a decision aagainst awarding the contract to L1 as several objections were raised by both Finance and Irrigation Departments.
In this backdrop, the government is likely to cancel the award of contract to the current bidders in the race in the present format.
Political circles are wondering whether TRS had a clue about the development since its leader K T Rama Rao on Friday reiterated his party's opposition to the project.