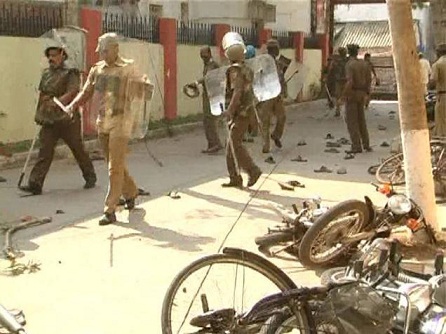 Unabashed political aggrandizement is behind the anarchism and lawlessness which resulted in reducing a Rs 600 crore worth factory into dust, besides the loss of two precious lives.
An MP from East Godavari district who wanted his goonda raj to be extended to Yanam is allegedly behind the mindless carnage that reduced Regency Ceramics into ashes.
No surprise that no political party worth its vote bank came forward to call a spade a spade. Whatever be the wrongs committed by the management – and  nobody knows what they are – the president did not deserve to be lynched to death nor the factory burned to charcoal.
But Amalapuram MP Harsha Kumar says the management should be arrested for what all happened, and BV Raghavulu, the CPM leader, wanted the management which lost its top man as well as the factory to be punished.
According local sources, Amalapuram MP's attempt at getting a hold on the factory through the union through his men flared up the issue. Regency apparently had good rapport with the local MLA Malladi Krishna Rao, and Harsha Kumar's men wanted an upper hand in the factory affairs. The result is horrendous.
Lok Satta Party president Jayaprakash Narayan is probably the only exception who gave a sensible response.
"A central agency should probe whether any vested interests instigated trouble at the Regency Ceramics' plant for any personal gain. If so they must be punished," Narayan said in a statement.
Yanam unrest resulted in loss of two precious lives and caused injuries to many which is extremely sad. Such incidents would vitiate industrial climate, disrupt economic growth and sap people's faith in the country's future, he said. Narayan observed that managements and labour all over the country have avoided confrontation in the last fifteen years which has boosted profitability and productivity of enterprises and workers' income has also gone up. The recent events at Maruti's car factory at Manesar in Gurgaon and at Regency Ceramics in Yanam are, therefore, extremely unfortunate, the Lok Satta president said.
"Unless we learn the right lessons quickly and take vigorous preventive steps now, these isolated incidents could undermine the national morale and affect economic growth and employment adversely," he added. A magisterial inquiry has already been ordered into the violence that led to the lynching of president (Operations) of Regency Ceramics K.C. Chandrasekhar after union leader M.S. Murali Mohan was allegedly died in police action.