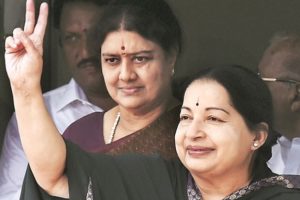 Chinnamma (Sasikala Natarajan) might not attend Thursday's General Council and Executive Committee meeting of Tamil Nadu's ruling party AIADMK. But Sasikala is mostly likely to be elected the General Secretary of the party, in other words, the party chief.
The meeting, to be held at Srivaru Kalyana Mandapam in Vanagaram in the outskirts of Chennai, will be attended by about 2,770 AIADMK members, including MPs, MLAs, district secretaries and other members. There is no possibility of an election, since the party spokesperson has already announced there there were no nominations filed.
Sasikala Natarajan is likely to elected as General Secretary in an unanimous resolution of the party meet.