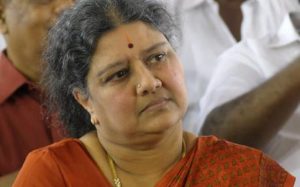 As already reported in these columns, VK Sasikala, the close confidante of the late J Jayalalithaa, has been officially appointed as the ruling AIADMK general secretary in a general council meeting in Vanagram, Chennai on Thursday.
Sasikala will lead the party until a new general secretary is elected, according to the resolution. The resolution read, "Until Ms. Sasikala is elected under the party's by-law no.20, section.2, she has been unanimously appointed as general secretary. Ms. Sasikala will have all powers vested with the general secretary."
The party also adopted resolutions demanding Jayalalithaa's birthday to be celebrated as "National Farmers Day" and the former chief minister of Tamil Nadu to be conferred with Magsaysay Award and Nobel prize for World Peace.
With this formal appointment, the era of Sasikala, who has all along been behind the scene in the state politics, begins with a bang. It may be mentioned that while Jaya was alive, despite her closeness to the Chief Minister, Sasikala was never allowed to interfere in the affairs of either the government or the party.