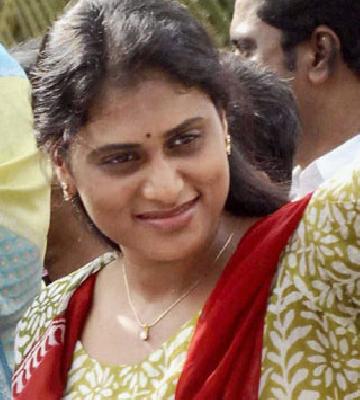 With Jagan behind bars, it is Vijayamma and Sharmila who are now running the show for YSR Congress Party. Though Jagan had announced that Vijayamma would lead the party campaign in his absence, his sister Sharmila, who is accompanying her all along, has turned out to be an unexpected hit with the masses.
Given that her exposure is limited, especially in the political field, Vijayamma is still making halting speeches in public. But Sharmila has been attracting crowds with her rhetoric, making pointed references to Congress leadership's alleged duplicity. The youth especially seem to have been following her with attention.
However, there have been questions as to why Jagan's wife Bharathi has not been participating in these roadshows. If garnering sympathy votes was the motive in fielding Vijayamma and Sharmila, some believe Bharathi would have been the ideal campaigner since she was the first victim of Jagan's arrest.
However, Vijayamma would be naturally comfortable in the company of her daughter and hence Sharmila's participation, is the answer by some YSR Congress leaders. Though Jagan did not specifically ask Sharmila to campaign, it was but expected that she would go along with her mother for support.
As for Bharathi, they say, she has been busy with coordinating the legal battle and taking care of all personal and political affairs from Hyderabad.
Whatever was the arrangement that Jagan wanted in his absence, Sharmila and her husband Anil Kumar who has been accompanying her in ongoing road shows, have emerged as prime movers and shakers behind YSR Congress campaign.