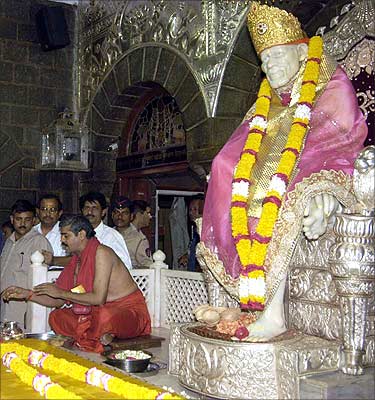 Tirumala is known in India as the richest temple. But Lord Venkateswara is likely to be overtaken by Sai Baba of Shirdi, if the present trends are any indication.
Sai Baba, a Muslim fakir (whose real name is unknown), who combined the teachings of Islam and Hinduism, came to Shirdi in Ahmadnagar district of Maharashtra  in 1850s and became a popular saint for locals. After his death, a mandir was built in his honour, which became a major pilgrim centre.
The rise in the popularity of Shirdi has been phenomenal in recent times, resulting in huge revenues to the temple through offerings made by the devotees, who throng the place from all over the country. However, Maharashtra, Andhra Pradesh and Gujarat are three states which account for a major share of the visitors to Shirdi.
Shirdi has already achieved the distinction as the second richest temple in India after Tirumala.
Shirdi's annual revenue in 2010 was Rs 322 crore which went up to Rs 427 crore in 2011. In the same years, TTD made 512 crore and 600 crore respectively. The comparison indicates how fast Shirdi is catching up with Tirumala as a major religious destination.
On Wednesday last, there has been a rush of pilgrims in both places. While Tirumala got Rs 5.73 crore on this day from offerings, Shirdi, administered by Shirdi Sansthan Trust on the lines of Tirumala Tirupati Devasthanam, was not far behind with Rs 3.93 crore.
If the trend continues, Shirdi might give tough competition to Tirumala as the most visited religious place.