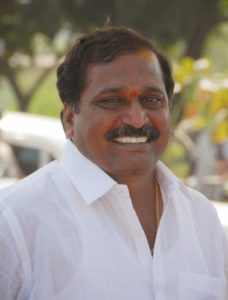 As expected, Silpa Chakrapani Reddy, MLC and brother of Silpa Mohan Reddy, has decided to cross from TDP to YSR Congress Party. He has submitted his resignation to TDP. Chakrapani Reddy will formally join YSR CP on Thursday in the presence of Jagan Mohan Reddy in Nandyal.
Rumours have been floating since a few days that Chakrapani Reddy might also desert TDP as his brother was contesting Nandyal by-election from YSR Congress. It might be recalled that the Silpa brothers were upset over the choice of Chandrababu Naidu to give party ticket for Nandyal by-election to Bhuma family.
The Silpa brothers have a running feud with the Bhuma family in Kurnool district. Now, with Chakrapani Reddy too joining hands with Jagan, it has been to be seen how this development will impact Nandyal election, which has become prestigious for both the ruling and the opposition party. The two parties are leaving no stone unturned to secure victory in the poll.