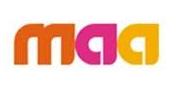 Maa TV has entered into a strategic alliance with Sony TV to enable the latter to acquire 30 percent equity stake in the former.
MAA Television Network Limited and Sony Pictures Television (SPT) on Monday announced their joint intent to enter into a strategic alliance "to give a new growth thrust to MAA TV and its network of Telugu TV channels"
The strategic alliance would enable SPT or any of its affiliates to acquire 30% equity stake in MAA Television Network Limited on signing the Definitive Agreement and subject to obtaining necessary approvals from the concerned statutory authorities. The majority shareholders of MAA Television Network and SPT have signed a Letter of Interest (LoI) to this effect.
Nimmagadda Prasad,  K Chiranjeevi,  Nagarjuna Akkineni and Allu Arvind, the four main promoters of MAA Television Network Limited, together control about 95 percent of the company's equity capital at present.
Manjit Singh, CEO of MSM India, Sony Pictures Television's Indian operations, said, "An alliance between SPT and MAA TV will provide strategic opportunities for both companies, as well as great viewing for television audiences in India. We look forward to a prosperous relationship for all."
Sharing happiness on the development, Mr. N Prasad, the Chairman of MAA Television said: "This indicates SPT's faith in MAA TV as a leading Telugu General Entertainment Channel (GEC) network and the growth potential of the regional TV firmament. With Sony as a strategic partner, Telugu TV viewers can expect more and more quality programmes and family viewing from MAA TV network of channels. It will be a win-win formula with many complementary benefits". "Besides, such transaction should infuse confidence and augur well for the industry across all sectors", he added.
Commenting on the proposed strategic alliance,  K Chiranjeevi, one of the promoters of MAA TV said: "Under the visionary guidance of Mr. N Prasad, MAA TV has grown from strength to strength in the last few years to become a leading Telugu GEC Network with a bouquet of four channels."
Nagarjuna Akkineni and Mr. Allu Arvind, the promoter Directors of MAA TV, said: "With the new initiative, MAA TV is all set to enter into a new growth orbit in Telugu TV space. Telugu TV viewers can expect successful international entertainment formats."
Mr. C. Ramakrishna, Director of MAA TV, said: "In terms of all performance indicators, MAA TV is one of the best companies in Indian media industry. The strategic alliance with SPT would further consolidate MAA TV's position in the industry."
MAA Television Network Limited as a corporate entity was formed in the year 2001 and the main GEC channel MAA was launched in the year 2002. The second channel MAA Music was launched in 2008. With the launch of MAA Movies in February 2011 and MAA Gold (another GEC with a focus on urban and youth audience) in February 2012, MAA TV has emerged as a major Telugu Television network with a bouquet of four channels.
Telugu, Maa means 'ours', indicating the feel-good bonding with the viewers. Besides best known for vibrant, innovative, pleasant and interactive programmes, MAA TV has satellite telecast rights for about 700 films. A considerable number of these films are Tollywood blockbusters.
MAA TV promoters are accomplished personalities in their fields, and carry very rich and divergent expertise, a press release by MAA TV said. N Prasad, the main promoter & Chairman is an accomplished first generation entrepreneur.  Chiranjeevi and  Nagarjuna Akkineni are top notch Tollywood heroes. Allu Arvind is a veteran film producer. They share a common vision and business philosophy. In terms of programme ratings, MAA, the main GEC, is among the top 20 TV channels in India, the release said.