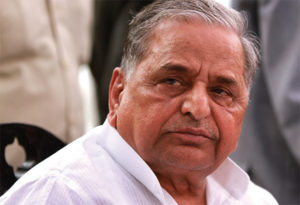 What is happening in Uttar Pradesh is eerily similar to what happened in Andhra Pradesh in 1995. If the power struggle in the then AP was between the late NTR and his son-in-law Chandrababu Naidu, in UP, it is between father Mulayam Singh Yadav and son Akhilesh Yadav.
Like the duo in the then TDP, Mulayam and Akhilesh are now all set to fight for the right over the party symbol – Cycle. Incidentally, TDP too has the same symbol.
It is now clear that the Samajwadi Party is hurtling towards a vertical split. The Akhilesh Group's action in holding the party convention and electing the party scion as the national president seems to have put paid to all efforts at reconciliation.
An alarmed Mulayam declared the meet illegal even as the Chief Minister removed Shivpal Singh Yadav as party's Uttar Pradesh unit chief and appointed MLC Naresh Uttam in his place.
Mulayam is now looking closer to the late N T Rama Rao, unable to stand up to the political machinations of his son. It will be interesting to watch how the old man will handle the crisis in the next few days.