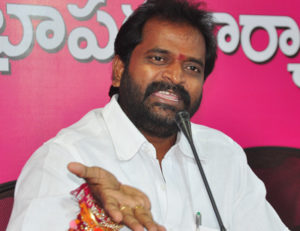 A ruckus was created in Khairatabad RTA office today with Telangana MLC Srinivas Goud storming the place against J C Prabhakara Reddy over the operations of Diwakar Travels. Prabhakara Reddy, brother of J C Diwakara Reddy and Municipal Chairman of Tadipatri, was taken into custody by the police as he entered the RTA office for a face-off with Srinivas Goud.
Goud alleged earlier in the Telangana Legislative Council that APSRTC was ill-treating Telangana RTC drivers and buses, and also hurled accusations against Andhra private bus operators including Diwakar Travels. J C Diwakar Reddy then declared that he was ready for a debate on the issue. Suspecting fracas at the RTA office, where Prabhakara Reddy was headed, the police took him away.
Later, Prabhakara Reddy returned to the RTA office and refuted Goud's allegations that he owned 230 buses, and claimed he operates only 44 vehicles. He said he had come RTA office because Goud took his name to make allegations.