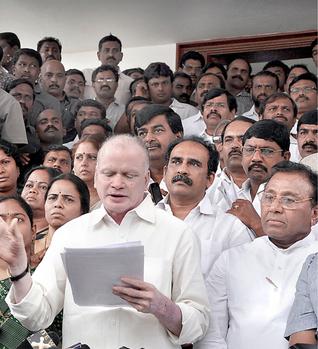 This is survey time once again. With by-elections round the corner for around 24 seats in the state, parties are vying with each other in trying to gauze the mood of the people.
The forthcoming by-polls are a do-die battle for all the parties. The future of TRS and YSR Congress is closely linked to the outcome in these crucial elections. These are also a challenge for both Kiran-led Congress and TDP.
According to one survey in circulation said to be conducted on behalf of government, TRS, as expected, has an edge in Telangana seats. But the pink party will not go unchallenged. TRS has clear edge in Adilabad, Kamareddy, Kollapur and Station Ghanpur. The first two belonged to TDP, the last two to Congress earlier.
Nagam Janardhan Reddy has clear edge in Nagarkurnool. Mahbubnar will see triangle fight, but Congress has slight edge. Parakala will have tight fight between TRS and YSR Congress Party.
All in all, the survey shows that TRS will make it in four seats, while Nagam will retain his seat. Congress and YSR Congress have a chance in Mahbubnagar and Parakala respectively. The TDP is nowhere in the picture, according to this survey.
Another internal survey by Sakshi for YSR Congress Party interestingly shows that the party's candidates, who are sitting MLAs, are likely to lose in at least 4 seats. They include Narsapuram, Narsannapet and Ramachandrapuram seats.
Another curious revelation, according to Sakshi's reported survey, is that TDP is likely to come in third position in all or most of these seats. That is something that even YSR Congress Party leaders are not able to take. They think Congress is the weakest of the lot, and are wondering why the survey shows otherwise.