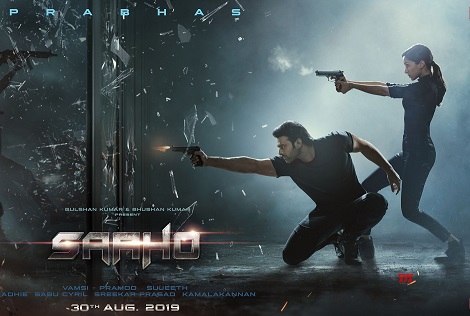 YSR Congress Party sought to raise a controversy over new film Prabhas-starrer Saaho. The ruling party and its social media brigade are alleging that TDP was talking ill of Prabhas film because the actor supported Jagan Mohan Reddy government.
What happened was that Prabhas, who was giving a series of interviews to television channels, spoke about Jagan. When asked about the new government in Andhra Pradesh in a Tamil channel, the actor said Jagan was a young Chief Minister and he hoped that he would do good for the state.
Prabhas was naturally being polite in his response, and that was nothing to suggest he was going out of his way to suggest that he was a die-hard fan of either Jagan Mohan Reddy or his party. But pro-Jagan media jumped at this and tried to spin that TDP was angry as Prabhas was supporting Jagan.
The YSR Congress social media started spreading that TDP was campaigning against the movie Saaho. "TDP's negative social media campaign against 'Sahoo'!", the pro-Jagan website Great Andhra.com. screamed.
Enraged by this, TDP general secretary Nara Lokesh blasted the pro-Jagan website. "How low and ugly can you get Great Andhra? Shame on the pseudo journalist who wrote these blatant lies!! How are you even able to eat with the money earned from caste divisions and spreading hatred?? Don't you have any conscience?" he questioned.
How low and ugly can you get Great Andhra? Shame on the pseudo journalist who wrote these blatant lies!! How are you even able to eat with the money earned from caste divisions and spreading hatred?? Don't you have any conscience? https://t.co/xNAsFEeaSO

— Lokesh Nara (@naralokesh) August 19, 2019
Probably to counter the propaganda, Lokesh also paid compliments to the film and Prabhas and asked the party supporters to watch the film in a big way. "#Saaho is a big-budget extravaganza and I'm looking forward to watching it much like many of #Prabhas's fans across the world. I truly wish the film to be a blockbuster. I request TDP supporters and Prabhas fans to watch the film and spam the idiotic article out of this orbit!!!"