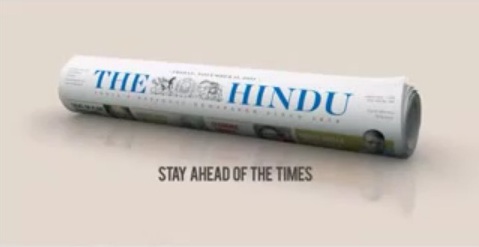 By Ramesh Kandula
I have very mixed feelings about The Hindu newspaper. Like the curate's egg, it's good in parts, if I may say so. But is it better than the largest circulated paper The Times of India? A very tricky question! But I certainly liked this video promo put up recently by The Hindu.
First, it is very unlike The Hindu. It's mischievous, it's creative and it takes on its competition head on. Characteristics that I don't normally associate with The Hindu, the holy cow of Indian journalism.
The commercial 'Stay ahead with The Hindu' not only takes a jibe at Times readers, but actually portrays it as intellectually challenged. Looks like post-Ram Hindu is all set to try out new things!
Whether readers would switch over to The Hindu after this ad is doubtful, but many did like its irreverent tone. Said one reader ,"I love the Hindu. But I have to say that I grew up reading the Times of India (Hindu's fault coz it has stayed away from Mumbai 😛 )and this is a far cry from the truth. But yeah, there is no denying the fact that this was one kickass ad".
Have a look at this funny un-Hindu-like advt.