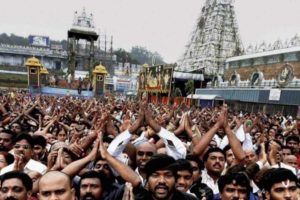 Religiosity is on the upswing in the Telugu states like, in the critical words of late poet Gajjela Malla Reddy 'overflowing drainage'. With more and more people swarming for a darshan of Lord Venkateswara, records are being rewritten in Tirumala.
As many as 2.6 crore (26 million) devotees had a darshan of the Lord in the year 2016. That is more than the population of Sweden and Switzerland put together!
A massive amount of Rs 1,018 crore was received through the hundi as donation from the visiting pilgrims. As many as 10.34 lakh laddus were distributed to the visitors in the same year. According to the Executive Officer D Sambasiva Rao, new records have been set in these three areas in 2016.
While 32 lakh New Year calendars were sold, another 10 lakh diaries brought out by the Tirupati Tirumala Devasthanam Trust were too lapped up by the devotees.
The EO disclosed that the new television channel SVBC-2 in Tamil will be soon launched. After Telugus, Tamilians are the largest visitors to the Temple. He also said that e-donations have also been enabled.