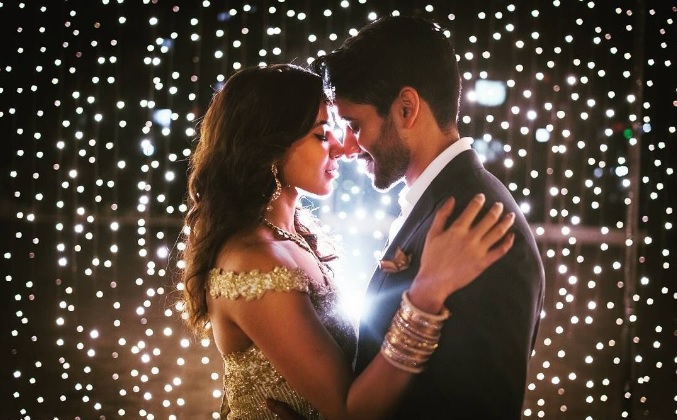 Two things are special about the engagements in Nagarjuna family. His sons Chaitanya and Akhil are marrying not only out of caste but even out of religion.
But the story probably started long back. Nagarjuna himself was wedded to Amala, who is half-Bengali and half-Irish. Given that Nagarjuna, unlike his father, has turned out to be spiritual, he has shown to be progressive in regard to his sons' love life.
While Shriya Bhupal, engaged to Akhil, is from business tycoon GVK family, Samantha is a Christian by faith born to a Telugu father and a Malayali mother in Chennai.
Like the Chiranjeevi family, the Nag family too has embraced modern approach, not insisting on caste and community. Both Chiranjeevi's son Ram Charan Teja and Allu Aravind's son Allu Arjun are married out of their caste. A welcome trend indeed!
Another interesting fact about Nag family engagements is that they were strictly family-and-close-friends affair. It was low key and intimate.
Samantha and Chaitanya exchanged their rings in a private function in Hyderabad on Sunday. Like his brother's event, this one also saw only close relatives of Akkineni family and a few big stars attending the event.
Chaitanya's sibling Akhil, who got engaged to Shriya Bhupal last year, wished the couple. "My brother and my new sister! I'm the happiest thammudu in the world. Love you guys !," Akhil tweeted.
Nag seemed to have his designer clothes on the day, and thanked Shilpa Reddy for designing them.