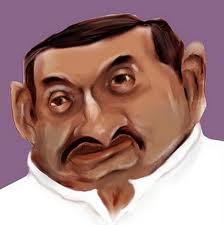 Even in the best of times, Chief Minister N Kiran Kumar Reddy is not friendly with the media. With hostile demeanour and blunt responses, this cricketer-turned-politician has always preferred to keep journalists at a safe distance.
To top it all, he has now decided not to grant media interviews. A blanket ban has been imposed on one-on-one interviews. This is unheard of in the state's history, say old timers.
The Chief Minister's Office has been bluntly refusing the requests from the media for interview with the CM. "Saar is not giving any interviews. No print media. No electronic media," is the stock response from CMO officials.
Kiran will complete one year in office on November 25. His aides say that he is averse to celebrations and special media coverage.
Ironically, the state government is splurging huge money on publicity blitzkrieg, both in the print and electronic media.
It has been a customary practice for Chief Ministers in the past to grant exclusive interviews to the media on special occasions like the launch of a major welfare programme or reaching a significant milestone in office. All the predecessors of Kiran were reasonably media-savvy, more particularly the TDP chief N Chandrababu Naidu whose image is often dubbed as media creation. Even YSR always had pleasant interactions with the media despite his fall-out with Eenadu.
Kiran's antipathy towards the media is well known. It was on full display during one of his public meetings in Warangal district recently. "I do not need them. Take them away," he had said repeatedly pointing towards the television cameras. He even asked the security personnel to clear the area of cameras and journalists.
Related Post