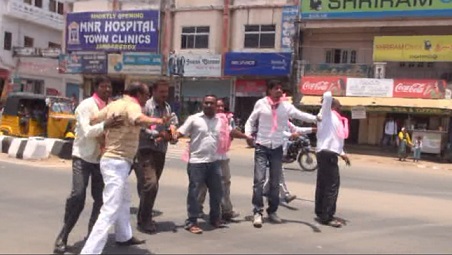 The Medak district bandh call given by TRS in protest against the alleged remarks of Chief Minister Kiran Kumar Reddy received little response today. Though the TRS strongman Harish Rao and KCR himself belonged to the district, surprisingly the bandh met with little success.
According to reports, except for Siddipet, the constituency of Harish Rao, the impact of bandh in the rest of the district was bare minimum. Life and traffic was routine in Sangareddy, the district headquarters. Shops were open and buses and vehicles plied as usual, even as police ensured no untoward incident occured.
Government Whip and Sangareddy MLA Jagga Reddy, who vowed to foil the bandh call given by TRS, displayed his hold on the place, ensuring that normal life remained unaffected. Simultaneously, TRS activists, who made vain attempts to stop buses, were taken into custody by the police.
Life went on normally in Jaheerabad, Narsapur, Narayanakhed. Even industrial areas such as Jinnaram, Patancheru, Pasamylaram and Bollaram witnessed little disruption to normal life.  Jaggareddy followers took a bike rally in Sangareddy against the bandh call.
TRS rank and file in the district were left red-faced following the failure of the bandh call given by no less than the party chief KCR in his home district. The pink party is unable to swallow this humiliation.
Adding insult to injury, Jagga Reddy said KCR failed in his challenge thrown at CM Kiran, referring to the former's statement that he would create a quake against the government.