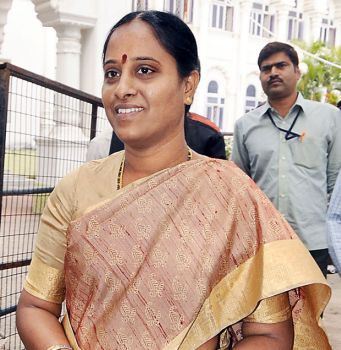 Another setback for Jagan Mohan Reddy. TRS has changed its gameplan. While Jagan expected that his stand not to contest six by-elections in Telangana would do go down well with TRS, the sub-regional party gave him a shock on Wednesday.
Etela Rajender, TRS legislative party leader in the Assembly, said that his party has decided to be in the fray for Parakala and Mahbubnagar constituencies. Konda Surekha is the lone Jagan loyalist who will be contesting from Parakala. It was for her sake that Jagan was said to have made his statement about YSR Congress Party not putting up its candidates in other constituencies.
Now Surekha will have to face a four-cornered contest with TRS, Congress and TDP in the fray.
By-elections are due in Mahbubnagar, Kollapur, Nagarkurnool, Station Ghanpur, Kamareddy and Adilabad. Parakala in Warangal will be vacant if the ruling party's petition for disqualification against Jagan MLAs is acted upon by the Speaker, which is likely to be in a month's time.
Mahbubnagar seat came to be vacant following the sudden death of Rajeshwar Reddy, an independent MLA, who later became an associate member of Congress. TRS will now field its candidate from here.
TRS has not yet decided on Nagarkurnool, where Nagam Janardhan Reddy will be contesting as independent following his resignation from TDP. Nagam will find it tough, if TRS were to decide in favour of contest. Sources say that despite all the public support to Nagam in his fight against TDP, the pink party, especially KCR's family, is not very keen in supporting Nagam.
Etela also made it clear that Jagan will not be allowed to tour Telagnana, without making his stand on Telagnana clear. Jagan is to commence his Odarpu Yatra in the region from Jan 10 onwards.
TRS's aggressive stand can be attributed to its strong desire not to let any other party – including YSR Congress Party – consolidate its standing.
On the whole, Jagan seems to be at the receiving end with the latest development.