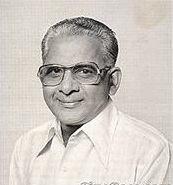 One of the luminaries of Telugu film industry during its golden period, Veeramachaneni Madhusudhana Rao passed away on Wednesday after a prolonged illness.
Madhusudana Rao (89) who was born in Krishna District directed as many as 72 films in his eventful career spanning over four decades.
Some of his golden movies include Antastulu, Aradhana, Krishnaveni, Chakravakam, Bhakta Tukaram and the all-time classic Veerabhimanyu.  Nagarjuna's debut movie Vikram was also directed by him. He was the preferred director for many of Jagapati Pictures films produced by V B Rajendra Prasad.
He trained many actors such as Ahuti Prasad, Sivaji Raja and Srikanth through his Madhu Film Institute.
He was awarded Raghupathi Venkaiah Naidu Award by the Andhra Pradesh state in 1997.