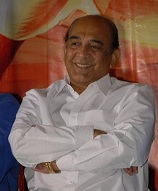 YSR Congress Party leader and actor Vijay Chander is in soup over alleged assigned land in Mulugu mandal of Medak district. Vijaya Chander bought land here under Karunamayudu Charitable Trust, essentially for setting up old age homes for various sections of people.
The state government now claims that a part of this land is assigned, which means that he bought it from dalit farmers who were given this land by the government. Under law, the government has a right to confiscate assigned land, if it were bought by a third perso
The government in 2007 issued a notice to take back 83 acres of the land as being assigned. Later, in a recent order, RDO Johnson revised the notice deciding that 43 acres of land was assigned.
The confiscation process is to start on Monday.
Assigned land has become a tool for governments to harass political opponents since the days of YSR. Earlier, the revenue officials were making handsome money in transferring assigned land. Citing law, governments have been selectively going for confiscation, even though the buyer normally pays money for his purchase.
Neither the registration department nor the revenue officials are pendalized for the registration or transfer of land in these cases.
No wonder, Vijay Chander now alleges that the government was being vengeful because he was in YSR Congress Party. He also alleged that local Eenadu reporters blackmailed him for money, which he refused to pay. Hence, the stories on his land, he says.