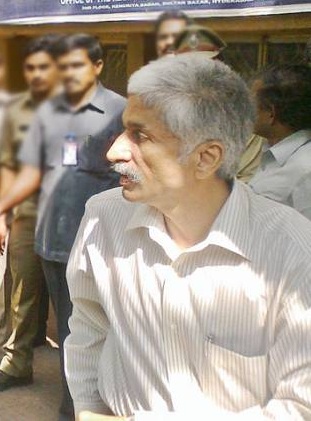 CBI has on Monday arrested Vijaya Sai Reddy  in connection with case against YSR Congress Party chief Jagan Mohan Reddy.
The 53-year-old Vijaya Sai Reddy is a close confidante of Jagan and also Jagati Publication Limited's vice- chairman. Jagan's wife Bharati is the chairperson.
The former TTD Board Member has been in CBI office at Dilkusha Guest House since Monday morning for questioning. CBI Joint Director Lakshminarayana, who took Vijaya Sai Reddy into custody at 7 pm in the evening, said he would be produced before the magistrate on Tuesday morning.
This is the first arrest in Jagan assets case being investigated by CBI on the orders of AP High Court. Vijaya Sai Reddy looked almost relieved as he was being taken away by CBI, waving his hand from inside the vehicle.
CBI is understood to have arrested the top Jagan aide under Prevention of Corruption Act section 13, clause 4. The case is filed as 17/2011.
The other sections under which he was charged include section 120 (B), 409, 477 and 477 (A).
Read: Vijaya Sai Reddy arrest sudden, unexpected
Read: Jagan loses Mr Dependable as Sai Reddy likely to stay put in jail
On August 17, the CBI had registered a case against Jagan on the instructions of the High Court for alleged offences such as cheating, criminal conspiracy, criminal breach of trust under the IPC. In the FIR, CBI has accused Jagan of conspiring with his father and others to cheat the state government by granting favours to many companies. Vijaya Sai Reddy figures as second accused.
The Special CBI Court on December 14 dismissed the petition filed by Vijaya Sai Reddy against the CBI in connection with YS Jaganmohan Reddy's illegal assets case.
Sai Reddy had urged the court to issue directions to the CBI to probe the matter only for the period between 2004 and 2009 as directed by the High Court. He alleged that the CBI violated the High Court's directions and was threatening the witnesses and recording their statements as part of their investigation.
Vijaya Sai Reddy, who is the second accused in the case in September 2011 complained there was a threat his life from leaders of Congress and Telugu Desam.
In a letter to Additional Director General of Police (Intelligence) M. Mahender Reddy, Vijaya Sai Reddy said he suspected some persons of shadowing him during his visit to the camp office of CBI and back home.
Vijaya Sai Reddy was Director of Oriental Bank of Commerce and allegedly a major portion of Rs 800 cr worth loans for Jagan were secured from the same bank.