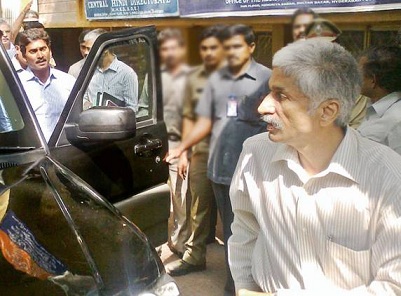 Jagan's Man Friday Vijaya Sai Reddy's arrest is being seen widely in political circles as a first warning to the YSR Congress Party chief who has of late been aggressively attacking the Congress Party. Jagan has especially been targeting Delhi, which means Sonia Gandhi and that seems to have ruffled a few feathers in the Congress leadership.
"This move is vengeful on the part of the CBI, which is acting under the instructions of Congress in Delhi," YSR Congress Party leaders, Vasireddy Padma and Gattu Ramachandra Rao screamed. They dubbed the CBI action as politically motivated and said that the party would face the development politically.
They also questioned as to why Chandrababu Naidu is not being questioned even though as Chief Minister he allotted mines to Obulapuram Mining Company.
"This is done according to screenplay written by Delhi," Sakshi TV said. According to Sakshi TV, the arrest was carried out in order to remove hurdles for Congress in the by-elections for seats likely to be vacated in the event of Jagan MLAs being disqualified.
Read: Jagan loses Mr Dependable as Sai Reddy likely to stay put in jail
For all their dismissive statements and protests, the YSR Congress Party seems to have found itself in a tizzy over the sudden and unexpected development. According Sakshi TV, the case against Vijaya Sai Reddy was booked on December 17, which was kept a secret from the media.
Vijaya Sai Reddy, a low profile, affable and loyal auditor, is crucial in the investigation against Jagan, as he is generally believed to be the brain behind the complicated business empire of YSR's son, which spread its tentacles across sectors in a very short time.
Jagan has been blowing hot and cold for some time now as far as Congress is concerned. Though he was more critical of state Congress most of the time, of late he made some shrill noises against Delhi.
The CBI investigation slowing down earlier was attributed to the alleged statements of Jagan in the national media that his party would support UPA in future, if required.
However, recently he was once again making sweeping remarks against Congress high command. During his recent Odarpu Yatras, Jagan said the ensuing by-polls should send shivers down Delhi.
CBI taking Vijaya Sai Reddy into custody is widely being interpreted as conveying the seriousness of the Congress Party in taking on Jagan.