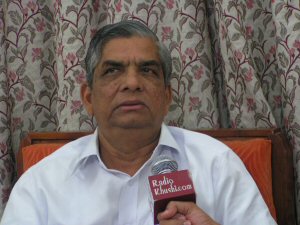 YSR Congress Party has a new conspiracy theory against the CBI investigating into Jagan's assets. The premier government agency is being remote controlled by TDP, alleged Gattu Ramachandra Rao on Tuesday.
Former CBI director Vijayarama Rao, presently with the TDP, is giving directions to CBI Joint Director Lakshminarayana. "The JD is taking instructions from Vijayarama Rao," Gattu said.
The YSR Congress leader is reacting to the CBI taking Sunil Reddy, a close associate of Jagan, into custody on Tuesday. Sunil Reddy is said to be the Man-Friday of Jagan, who is deeply involved in Jagan's affairs. While Vijaya Sai Reddy was the key man in taking care of all paper work relating to Jagan's companies, it is Sunil Reddy who is the trusted lieutenant in all personal matters of Jagan.
It is in this backdrop that Sunil's custody assumes significance.
Gattu sees a plot in the way CBI is operating against Jagan, serving the interests of the Telugu Desam Party chief. "The CBI, a section of the media and the TDP are hand in glove in their concerted attack against Jagan," Gattu pointed out.
Bajireddy Govardhan, another YSR Congress leader alleged that Chandrababu Naidu should be prosecuted for his role in Emaar scam. CBI is not focusing on Babu who is responsible for Emaar scandal," he reiterated his party's stand.