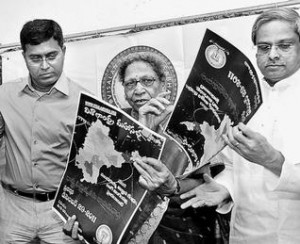 Visalandhra Mahasabha has done it once again. The outfit fighting for united Andhra Pradesh held an exhibition at Sundarayya Vignana Kendram today on development in various regions of the state to show that their was no discrimination per se.
As usual, some Telangana activists, who always claim to be journalists, barged in and tried to sabotage the event. A few freedom fighters, most of them from Telangana, who were present took on the mischievous elements head on. The event went off smoothly subsequently.
Parakala Prabhakar, general secretary, gave his presentation with statistical evidence to prove his point. "The separatists are clueless now as their lies over development parametres stand exposed," he said.
Nalamotu Chakravarthy and Anjaneya Reddy, the two office-bearers of VMS also spoke. But tomorrow, you can expect many newspapers saying that the VMS meet a fiaco, ..blah..blah.
Check out Namaste Telangana and a website known for gossip and sleaze to understand the depths to which journalism has plunged. It happens only in AP, especially in Hyderabad, that the journalists supposed to be covering an event demand that the organizers put forth not their own views, but the views that they endorse.
Thank God that there are other sources of info in this country, or else we would have been treated to the 'exclusive' colored version of our self-styled pro-Telangana journalist-activists!