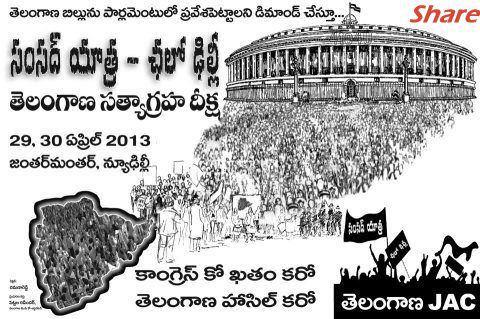 Whose show is the Sansad Yatra in Delhi? Officially, it is being sponsored by TJAC and its leaders Kodandaram, Srinivas Goud etc. Since TJAC can barely muster enough people to fill the special train, TRS is expected to take the responsibility of making Sansad Yatra a success.
But interestingly, it is BJP which is going all out to make Sansad Yatra noticed. The special train from Hyderabad to Delhi was booked by BJP. Kishan Reddy, state BJP president himself, travelled to Delhi to participate. The venue at Jantar Mantar is full of cut-outs of BJP leaders like Sushma Swaraj and Rajnath Singh.
While TRS leaders like K T Ramarao and all their MLAs are in Delhi for the program, the show is being entirely directed by BJP. No wonder, KCR is seen at least today on the first day of the two-day program. It is not known whether he will be there tomorrow.
According to sources, BJP spent Rs 30 lakh on booking train and other arrangements for Sansad Yatra. Around 1500, including those who went from Hyderabad and Delhi T lawyers, students participated in the yatra on the first day. CPI leaders are also scheduled to participate in the program.
The entire program is being seen as an attempt by BJP and other opposition parties to pushCongress Party into a corner on the T issue. While that may or may not work, TRS does not seem too enthused by the BJP's role. Not surprisingly, TRS, which earlier planned to take journalists to Delhi, went back as it sees the program as more of a BJP show.