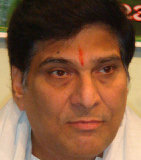 Why did Dr K V Ramanachary, principal secretary (endowment), resigned? According to sources, the popular officer's early retirement is the result of the feud between IAS and conferred IAS officials.
Ramanachary, a conferred IAS officer, has been a little peeved for sometime now, at not being given his due in postings. He had felt slighted during the appointment of specified authority during Rosaiah government,when he was sidelined in TTD affairs.
As principal seccretary, endowments, he had little work to do. The political interference in EO postings in the departments also was taking its toll on him.
He was trying to get posted as State Information Commissioner, a Constitutional post of chief secretary level, immediately after retirement. But the IAS lobby apparently came in the way of him being elevated to this post.
When he applied for voluntary retirement on Dec 3, Ramanachary did not expect that the file would move so fast. While Kiran Kumar Reddy has not been very favourable to him, the officer did not anticipate the CM's quick response on his file.
The letter was accepted by the CM on Dec 19 and orders were issued on 23. Ramanachary was asked to leave immediately. Ramanachary was due to retire on February next, so he would not lose much in the meanwhile.
However, his last wish to work in the CM's peshi could not be realized as Kiran showed little interest. This is not how the officer with literary bent of mind expected his chequered career to end.
Another sad part is that TRS allegedly assured Ramanachary that they would rake up the issue of Telangana officials being given insignificant postings during the recent Assembly session. They failed to rake up the issue for reasons known to them. Ramanachary hails from Nizamabad district.