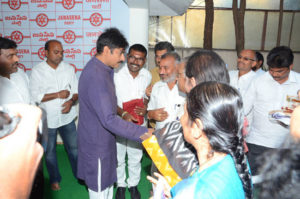 Janasena chief Pawan Kalyan said he would work along with any other party that sincerely fights for Special Category Status for Andhra Pradesh.
It may be recalled that YSR Congress Party also claims to be the only party fighting for Special Status to the State. However, Pawan has not shown any inclination till date to join hands with Jagan Mohan Reddy.
However, asked about possible tie-up with YSR Congress, Pawan today said that he had no personal animosity against anyone. "I can work with anyone, provided they are sincere about the cause," he clarified.
Speaking to reporters, Pawan felt that the Centre did not seem to have been moved by the protests for the status. Earlier, leaders of hand loom artisans met with Pawan Kalyan and invited him to participate in a protest programme in Mangalagiri.
Pawan said he would be part of the protest.
He reiterated that his campaign for the BJP was conditional in the last elections. Since the promise for Special Category was not fulfilled, he will have question the government. Referring to the criticism that he was posing questions on Twitter, Pawan said that when MPs and leaders went back on their promises, he is at least tweeting on the issues. "The MPs are not even asking about it even in the Parliament," he criticised.