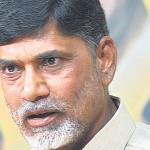 YSR Congress Party has once again questioned the impartiality of Justice V Eshwaraiah in dealing with a case against TDP chief N Chandrababu Naidu. The party's mouthpiece Sakshi carried a story on how the High Court judge would not be able to hear the case against Naidu in a dispassionate manner.
The case relates to allotment of lands to IMG in Hyderabad during Chandrababu Naidu regime. The then Chief Minister Y S Rajasekhara Reddy cancelled the allotment soon after assuming power.
However, journalist ABK Prasad and chartered accountant V Vijay Sai Reddy on March 2, 2012 filed a public interest petition in the AP High Court seeking a CBI investigation into the IMG land scam case.
The TDP regime headed by N Chandrababu Naidu in February 2004 had given 850 acres of prime land as well as leasing rights of all sports stadia in the city to the Hyderabad-based firm, M/s IMG Bharata Acadamies Private Ltd. The petitioners alleged the TDP regime sold the land to the firm at a nominal price of Rs 50,000 per acre. Moreover, this major decision was taken by the care taker government, they said.
The case has now come up before Justice Eshwaraiah bench, after the earlier bench headed by Chief Justice M Lokur recused from the hearings.
Sakshi on Sunday again raised the alleged family connections of the judge with Telugu Desam Party, suggesting that the bench will be compromised. It is unlikely that the YSR Congress Party expects anything of this case, but it will not lose an opportunity to paintNaidu as corrupt and was escaping prosecution by 'managing' courts.
The latest salvo has to be seen from this backdrop.