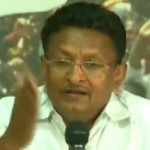 YSR Congress Party seems to be resorting to indirect methods to mount attack on CBI in general and Joint Director Lakshminarayana in particular. The party appears to have chosen an ingenious method for this, which is making others – non-party actors – to go to High Court against the alleged bias of CBI and questioning its motives.
Sakshi paper Tuesday carried a story on an advocate filing a petition in HC against Lakshminarayana. According to the report, the advocate Ramakrishna accused the CBI JD of 'influencing and blackmailing' the CBI court judge. Lakshminarayana was frequently entering the chamber of the judge and interfering with the process of justice, the petitioner alleged.
Another report said that a couple of businessmen involved in Jagan's cases had filed another petition in HC against the CBI,which they alleged had been harassing them in the name of investigation.
YSR Congress Party leader Gattu Ramachandra Rao used these reports to launch a vicious attack on the CBI. He said that these two petitions were a testimony to the 'fact' that the CBI was maliciously targeting Jagan.
The SC notices to Ministers also came handy for the party to corner the ruling Congress. The Kiran Kumar Reddy government is now saying that there was nothing wrong with GOs; he should have said this long before the YSR family's name was soiled, Gattu said.
YSR Congress claims that Sudhakara Reddy, the advocate who filed the case in SC against the government and the CBI, is not connected to the party.