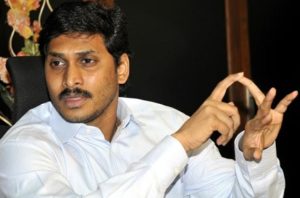 YSR Congress Party chief Jagan Mohan Reddy has initiated legal action against three Telugu language channels ABN Andhra Jyothi, ETV and TV 9 for allegedly airing damaging content against Leader of Opposition in Andhra Pradesh Legislative Assembly 'without verifying facts and failing to stick to the rule of objectivity'.
The reports were based on a tweet purportedly aired by Enforcement Directorate (ED) naming a shell company and attributing it to YS Jagan Mohan Reddy which, according to the legal notice, 'is not a verified fact'.
"The manner in which the three news channels have been telecasting the issue blending false information with the unverified and unconfirmed news is highly objectionable and legal action has been initiated against the telecast which is damaging to the office YS Jagan Mohan Reddy is holding and his stature in public life," the notice served late last night said.
Text of the legal notices given to three TV channels
Under the instructions of my client, Mr. Y.S. Jagan Mohan Reddy, S/o late Sri Y.S. Rajasekhar Reddy, Member of Legislative Assembly, State of A.P., I am to inform you that your channel has been telecasting news about purported searches carried out by ED. Purportedly on an official tweet from ED you have resorted to telecast unverified, and unauthenticated allegations about one entity named Rajeshwar Exports and my client. My client wishes to intimate to you that it is a part of a design to launch a smear campaign against my client, who has no nexus or connection with any shell entity including Rajeshwar Exports. My client has already addressed Enforcement Directorate in this regard.
My client considers this dissemination of news, which is not even verified or confirmed, as a blatant attempt to defame my client in the eyes of public with prior intent and motive. Purporting to act on such tweet, your channel has gone ahead and connected my client to alleged Rajeshwar Exports including on the quantum of monies allegedly involved without any verification. It is my client's fundamental right to safeguard his reputation against any unwarranted and illegal disclosures associating his name to any illegality. I am instructed to initiate action in civil and criminal law against such tendentious conduct of your channel in telecasting such news repeatedly, only with an intent to defame and besmirch my client's reputation in the eyes of public. My client's supporters and party cadre have expressed concern at such telecast and as to how such telecast is aimed at lowering the reputation of my client in the eyes of public.
My client calls upon you to forthwith refrain from telecasting any such news concerning my client's alleged association with such entities failing which my client shall initiate appropriate action in civil and criminal law, for the consequences of which you shall be liable.