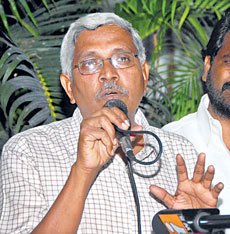 Kodandaram has got his professorship, thanks to YS Rajasekhara Reddy and hence the JAC leader is going soft on Jagan, alleged TDP leader Revanth Reddy. He questioned whether the JAC will put up the same kind of pressure on the YSR Congress Party leader for his proposed Telagnana tour.
Jagan is scheduled to resume his Odarpu yatra in Telangana from January 10 onwards. The TDP MLA claimed that there was a secret understanding between JAC, TRS and Jagan.
Revanth lambasted Kodandaram for carrying out TRS agenda and sarcastically said that TDP would not have any problem if the JAC leader and KCR were inclined to serve at 10, Janpath, Sonia Ganhdi's residence.
Revanth is reacting to JAC's call to prevent Chandrababu from touring Warangal which resulted in several violent incidents during the TDP's visit.  Kodandaram's JAC, which currently consists mainly of TRS, has of late been allegedly acting at the behest of KCR.