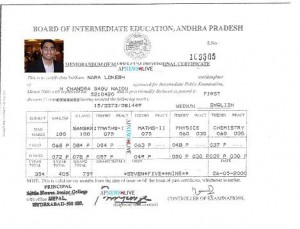 AP News Live exclusive
YSR Congress Party leader Smt Vijaya in her petition against TDP chief Chandrababu Naidu alleged that the latter's son Lokesh was an average student 'with just over 50%" marks in his Intermediate. Despite this, Lokesh was able to enter into leading universities in the US allegedly because his father arranged donations through beneficiaries of his government.
This is what Jagan's mother alleged in her petition:
"Sri.Nara Lokesh, the only son of Sri.Naidu studied in Hyderabad upto his intermediate education. He was a mediocre student and never had any scholarships to his credit, finally clearing his Science stream at the intermediate stage with just over 50%. However, Sri.Lokesh obtained his Bachelors Degree (1997-2000) from the prestigious Carnegie Mellon University and his Masters (2000-2002) from Stanford University in the USA. As Sri.Lokesh did not have the necessary grades, it was necessary for large endowments to be made to the Universities to consider him for admission."
While it is not unusual that students who are average in their school education go on to become accomplished individuals in academics in later years, it is also important to verify whether Lokesh was an average student with just over 50% marks in his Intermediate, as alleged in the petition.
Remember you are looking at the original documents that provide the true picture in this regard on AP News Live for the first time!
Lokesh completed his Plus Two from Board of Intermediate education in the year 2000 from Little Flower Junior College, Uppal, Hyderabad. The marks list dated 26-05-2000 is with AP News Live. According to the list, Lokesh passed out his Intermediate Examination with a First Class. His total was 759 out of a total of 1000 marks.
Lokesh Intermediate Marks List:                                  Exclusive: Who funded Lokesh's US education