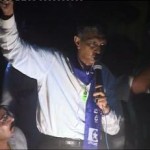 Lok Satta Party has fielded a candidate in Kovur seat in Nellore district. That the fourth player in a multi-cornered contest will have little impact is the general opinion. But surprisingly, the party chief Jayaprakash Narayan's campaign in the constituency has been forceful.
Given the more traditional style of speeches by the other leading parties – the YSR Congress Party, the Congress and the TDP leaders -, JP has been able to make an impression among the voters wherever he campaigned.
Being a gifted speaker with clarity of thought and armed with lot of information on various issues concerning the people, JP could draw the attention of the people in many pockets, as is evident from this video.
But with the groups supporting YSR Congress sitting tight, JP is most likely to take away some votes from the Congress and TDP supporters. That means Jagan will have a better opportunity at winning the seat thumbs down.
JP probably knows this, but he is focussed on taking his message to as many people as possible, notwithstanding who the incidental beneficiaries are in this game of one up-manship.