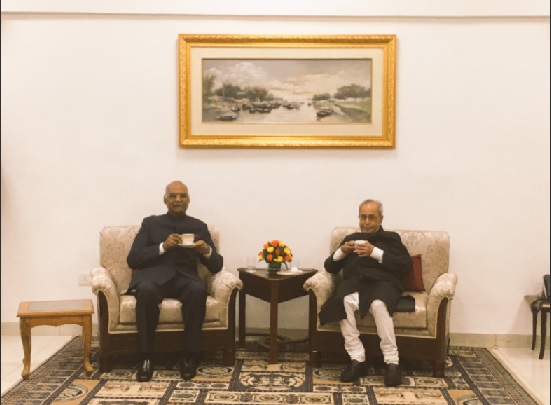 On the last day in office as the President, Pranab Mukherjee received a heart-touching letter from Prime Minister Narendra Modi. The former President shared the letter on his twitter account.
The letter describes how Pranab Mukherjee mentored Modi, an outsider to Delhi to negotiate the capital.
"Three years ago, I came to New Delhi as an outsider. The task before me was huge and challenging. In these times, you have always been a father figure and a mentor to me. Your wisdom, guidance and personal warmth have given me greater confidence and strength," Modi said in his letter.
On my last day in office as the President, I received a letter from PM @narendramodi that touched my heart! Sharing with you all. pic.twitter.com/cAuFnWkbYn

— Pranab Mukherjee (@CitiznMukherjee) August 3, 2017
Modi recalled the warmth of the then President. "You have been so warm, affectionate and caring to me. Your one phone call asking me "I hope you are taking care of your health" was enough to fill me with fresh energy, after a long at meeting or on a campaign tour."
Recalling the political divergence between the two, Modi said, "Pranab da, our political journeys took shape in different parties. Our ideologies, at times, have been different".
"Yet such is the strength of your intellect and wisdom that we were able to work together with synergy."
Finally, Modi in his letter dated 24th July, greeted, "As you enter a new phase of life, I convey my best wishes for your future endeavours".