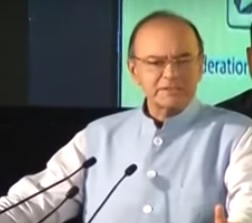 Union Finance Minister Arun Jaitley was all praise for the growth story of Andhra Pradesh, saying that the state is poised to grow by 4-5 percent ahead of the national GDP. He was delivering the key note speech at the CII Partnership Summit in Visakhapatnam.
Jaitley said that AP in the next decade and a half will see double digit growth, despite the global economic slow down. "For more than one good reason, the state stands out as an island, where the growth has to be much higher than the national average," he said, adding that the avenues of investment in Andhra Pradesh is far more compared to other parts of the country.
Arun Jaitley @ Partnership Summit
In such a case, the general slowdown will not impact the country because of states like Andhra Pradesh, he hoped. Jaitley also referred to the number one ranking of AP in Ease of Doing Business and assured Andhra Pradesh that the Centre will walk the extra mile to provide financial assistance to the state.
"Let me assure you and the Chief Minister that we will not only fulfil whatever promise we had as far as the central government is concerned, but will walk an extra mile as far as the state of Andhra Pradesh is concerned, because we know that it is here where the potential of much higher growth for the state and rest of India arises," Jaitley said here.