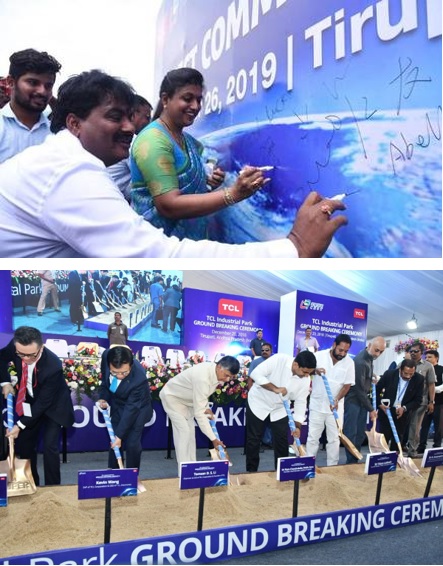 Can you believe it?
The Andhra Pradesh government has claimed that Rs 22,000 crore worth investments have been made in the state from June 2019. The state government also said that another Rs 30,000 crore of investment was in the pipeline.
At a time when the Jagan Mohan Reddy government's 'anti-business' decisions have become the talk of the town, the claim of such huge investment in the last eight months has come across as unconvincing. The YSRC government's belligerent and vengeful attitude towards the industry since it came to power in June 2019 has been much commented upon both at the national and international level.
The recent episode in which Kia Motors in Anantapur was reported by Reuters as considering moving out of Andhra Pradesh caused ripples across the country. It is in this backdrop that the state government's announcement has come.
AP Industry Special Chief Secretary Rajat Bhargava said in a statement that 39 large and mega units started their operations in the state since June 2019 with an investment of Rs 20,000 crore and providing employment to 33,000 people.
Significantly, no major industry can start operations within eight months of starting their unit in any new place, but the AP government is saying that 39 'large and mega units' started their operations since June 2019.
According to Bhargava, eight large and mega units at an outlay of Rs 7,916 crore and employment potential of 4,086 were under trial production stage. Eight more units with an investment of Rs 8,663 crore and employment potential of 14,205 were in the machinery erection stage.
In addition, 6,572 MSME units were established with an investment of Rs 1,840 crore providing employment to 49,001 persons.
Interestingly, the Andhra Pradesh government has not come out with details of the names of the industries and the 'mega units' that have set up units in the state. Besides, it is also likely that several of these industries actually arrived in the previous TDP government but are now being listed as having been brought by the present government.
Recently, the Jagan government repeated the launch programme of two industries, TCL and Toray, which actually set up units during Chandrababu Naidu regime.
Meanwhile, the Special Chief Secretary Bhargava reportedly said. "We are following a focused approach to attract industries into the state. We have a robust development agenda focusing on natural competitive advantages the state holds and beyond. We are working on a new industrial policy with a focus on faster clearances and transparency and accountability in land allotments".