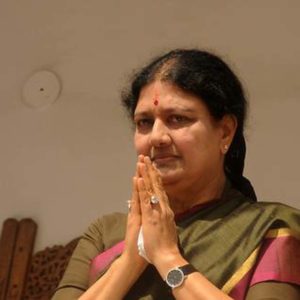 Moves to make VK Sasikala, who was elected as AIADMK general secretary a couple of days back, as Tamil Naidu Chief Minister, seem to be already afoot.
Senior party leader and Deputy Speaker of Lok Sabha M Thambidurai on Monday "appealed" to her to take charge as Tamil Nadu Chief Minister. He contended that leadership of the party and government should be with the same person for the welfare of the people.
Thambidurai's statement on Monday joins the chorus of several other party functionaries, who have openly declared their support for Sasikala to become the Chief Minister.
"The unfinished tasks of the party and the government, as expected by Puratchi Thalaivi Amma [Jayalalithaa], will be completed only when the leadership of the party and the leadership of the government are in the hand of one person," Thambidurai, also party's propaganda secretary, said in a release.
Claiming that people in the country have "not accepted" the situation where the leadership of the party and the government was not with the same person, he said the government has focused its attention and fulfilled the election promises, when the same person was both the head of the party as well as the government.
O Pannerselvam is presently the Chief Minister, following the demise of Jayalalithaa.