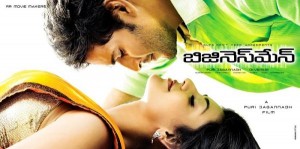 Businessman will be remade in Hindi with Mahesh Babu. Yes, director Puri Jagannath, who planned the Hindi remake even before the release of the original Telugu version, decided that Abhishek Bachchan, the original cast for the film may not work for the film. Hence Mahesh himself will make his debut with the Hindi version of the film
Puri Jagannath confirmed the news and said the primary reason for the change of mind is that Abhishek lacks the fire needed for the movie, especially in view of his recent lackluster performances. "Though Mahesh is not very fluent in Hindi, his presence will make a tremondous difference given his increasing popularity," Puri said.
Puri also reportedly had a bitter experience with Budda Hogaya.. which he had made with Amitabh Bachchan. The film was released by AB Corp owned by Bachchans. They failed to meet their contractual obligations, which is also one of the reasons for Puri's decision.