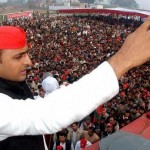 The Uttar Pradesh CM designate Akhilesh Yadav is playing his cards close to his chest. Talking about Chandrababu Naidu and Jagan Mohan Reddy, Akhilesh said that his father had close rapport with the TDP chief, while he himself interacted with Jagan several times in the past. Both are Members of Parliament.
He does not see any contradiction in his party treating both the leaders as friends. "They may be rivals in their state, but for us, both are anti-Congress and hence are friends," he clarified. Akhilesh said that he was inviting both of them to his swearing-in ceremony on March 15.
It will be interesting to see whether both the leaders will attend the ceremony.