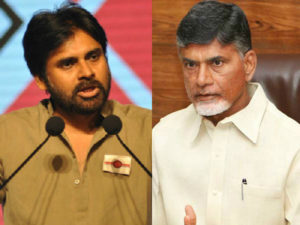 With DGP N Sambasiva Rao clearly stating that no gathering will be allowed at RK Beach in Vizag on January 26 for proposed protest on Special Category Status, a face-off is likely between the groups behind the move, supported by Pawan Kalyan and the State Government.
The police chief on Tuesday said no permission was sought by any group for any protest at RK Beach, and ruled out granting one at this stage.
"We advise everybody not to venture to the venue on the day, or else the police will have to disperse them by force," he said.
The protest, apparently inspired by Jallikattu campaign in Tamil Nadu, is being led by some unknown youth from north coastal Andhra and Godavari districts. Both Pawan Kalyan and Jagan Mohan Reddy have extended their support to the dharna on the beach, on the lines of Marina Beach sit-in.
The protest is being organised through social media campaign, mostly through whatsapp groups.
Jagan's party reportedly sought permission to hold candle light protest at the same venue on the same day, but police permission was denied.
"It is the Republic Day and such protest without permission will not be tolerated. We are watching the developments and are prepared to handle it," Vizag Commissioner of Police Yoganand said.
"We are not against any individual or group expressing their opinions freely. But when nobody is ready to take responsibility for organising such event, we cannot permit it. If something goes wrong, who is to blame? " DGP Rao said, expressing fears of anti-social elements entering the scene. In veiw of the Republic Day, extra precautions are being taken against any untoward incidents across the State, he added.
The expectation is that a few thousands might congregate at RK Beach, mostly Pawan Kalyan fans, and some from the YSR Congress Party camp.
Reacting to the police statements, Pawan tweeted, 'If they don't allow it now; you are creating unrest in them. Peaceful protest is their right'. 'Youth Protest' is apolitical. It's citizens right to protest when they were denied for what they had been promised,' he added.
Meanwhile, Chief Minister Chandrababu Naidu appealed against any disturbance on the day in view of the ensuing CII Partnership Summit. "Such a move will tarnish the image of the city and the state," he said.