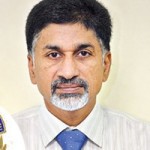 Jagathi Publications vice-chairman Vijaya Sai Reddy, who was arrested by CBI in connection with Jagan assets case, was remanded to judicial custody till January 17 by Nampally CBI court.
The court posted CBI petition for taking Sai Reddy into their custody for further questioning to Wednesday. The judge expressed dissatisfaction at remand diary, which he found incomplete. CBI requested for the auditor's custody for 14 days.
Following the remand order, Vijaya Sai Reddy was sent to Chanchalguda jail. The CBI said in its remand report that quid pro quo was proved in Jagan's case and that Vijaya Sai Reddy played a key role in manipulation of accounts. Kickbacks were turned into investments and Sai Reddy was instrumental in this fraud, said the investigating agency.
Earlier in the day, Sai Reddy, who is the second accused in Jagan's case, was taken CGHS at Basheerbagh for health check-up.
Sai Reddy was arrested by the CBI on Monday evening for his role in the alleged irregularities in Jagan companies including quid pro quo and money laundering.