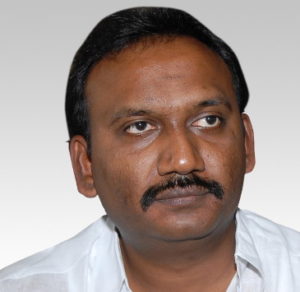 The ruling Telugu Desam Party's MLAs have been on the rampage for some time now. Amanchi Krishna Mohan, an independent MLA from Chirala, who later joined TDP, is notorious for his goondagiri. He has been several times in the news for his aggression.
In the latest episode, Amanchi Krishna Mohan's brother Swamulu literally beat up a local reporter Nagarjuna Reddy in broad day light. Reddy reportedly wrote about the excesses being committed by the MLA in a local magazine. Amanchi ensured a case was filed against the reporter in name of offending Dalits.
But not satisfied with that, the MLA's brother and his henchmen took the law into their hands and severely beat up Nagarjuna Reddy, resulting in the latter's hospitalisation. The incident happened in front the police station in front of the pubic.
The police, after some dillydallying, filed cases against 28 persons including Swamulu. However, it is unlikely that they will be prosecuted seriously, given the clout the MLA holds locally.
The incident once again highlighted the impunity with which the ruling party politicians are behaving like rowdies. No wonder, despite all the work being by the CM, the TDP is not exactly the preferred party for the people in general in many districts.