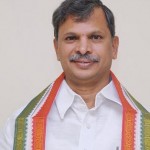 Dr N Tulasi Reddy, chairman of 20-point implementation program, is known to be a simple person. When he was allotted  a big bungalow on Raj Bhavan Road, Tulasi Reddy refused to move in, saying the present small quarter is sufficient for him.
Officials allotted him Raghava Sadan, an imposing address near Raj Bhavan, but within an hour of allotment, Tulasi Reddy politely declined the offer.
Reddy, who played a key role in TDP during NTR period, later joined Congress and got nominated during Rosaiah regime. As chairman, he enjoys cabinet rank and the facilities that come with the rank.
Another Congressman who is known for his simplicity is Minister Manikya Varaprasad. Varaprasad also refused to move into the bungalow he was allotted. "My wife was not in favour of moving into a large house. She said besides the problem of maintaining such a big house, it would be difficult later to move into a small house. So we decided to live in an apartment in MLA quarters," he said.